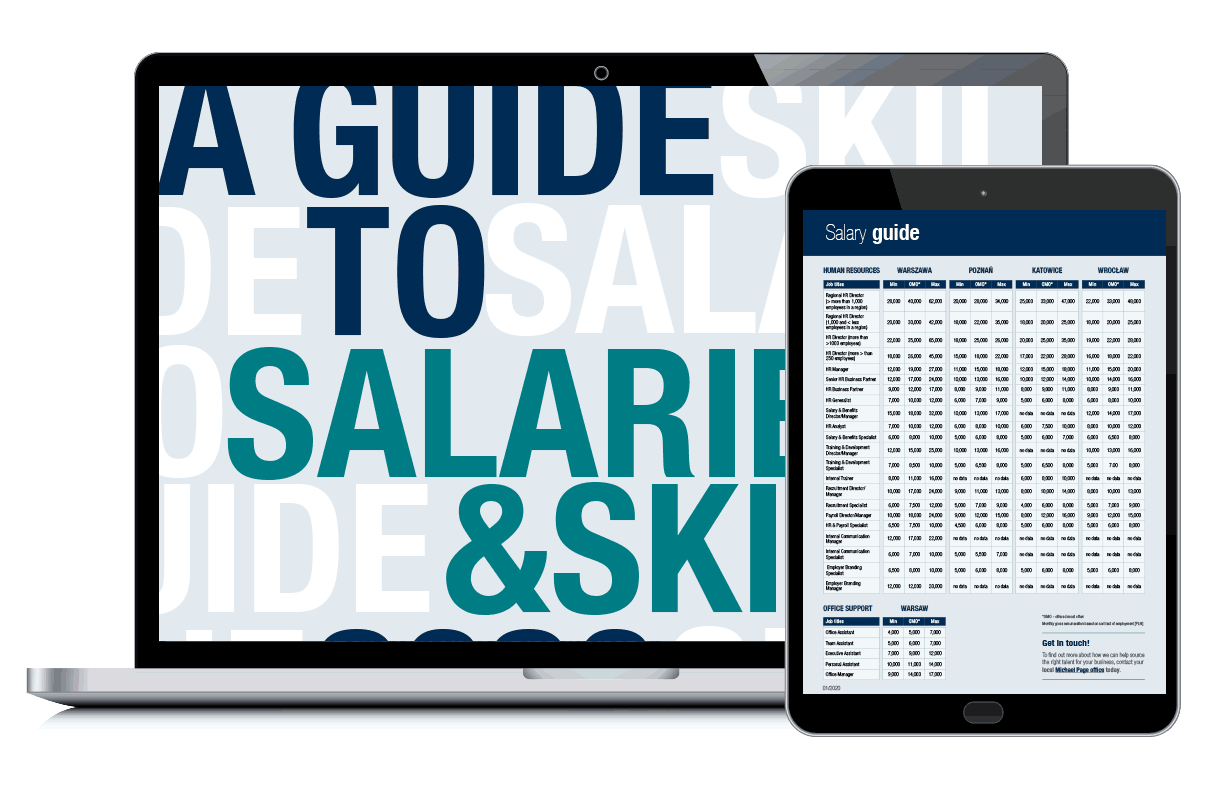 We are pleased to present you with the Salary Guide and Trends in the Labour Market in 2021, prepared by a team of Michael Page ans Page Executive experts. Here, you will find a summary of the recent recruitment trends and challenges on the labour market, as well as a detailed list of the current pay rates in the individual positions in twelve industries in Poland.
The thousands of job interviews that we have held with candidates, and the hundreds of recruitment processes that we have successfully conducted for our clients in 2020 have allowed us to devise a list of the wages that are typically offered in specialist and managerial and executive positions.
The report also takes account of the minimum, maximum and median gross pay rates, based on an a permanent employment contract, breaking them down into individual roles in the following industries and fuctions:
Finance
Human Resources
Information Technology
Banking & FInancial Services
Manufacturing
Supply Chain
FMCG
Retail
E- commerce
Property & Construction
Shared Services Centre (SSC/BPO)
Healthcare & Life Science
Download a free report
Are you an employer, or an HR specialist? In our report, you can check the current pay rates for professionals, and how businesses vie for talent. Here, you will also learn what sort of challenges your industry may expect in 2021, and how to respond to them effectively so as to enhance the attractiveness of your organisation in the labour market. 
Are you an employee? For sure, you would like to compare your salary to the average wages paid to people in the same or a similar position elsewhere. In this report, you can set your salary against the money that candidates get, and you will learn what businesses operating in the same sector offer their staff. Once you know this, you will be able to better assess your value on the labour market, which will increase your chances for successful financial negotiations with your current or prospective employer. 
At Michael Page, we strive to acquire the top talented staff for our clients. At the same time, we do whatever it takes to meet candidates' expectations in the best possible way and find them an optimal job offer. We believe successful recruitment is one in which a newly hired employee will successfully complete his or her probational period and will ultimately wish to see his or her future in a given company.